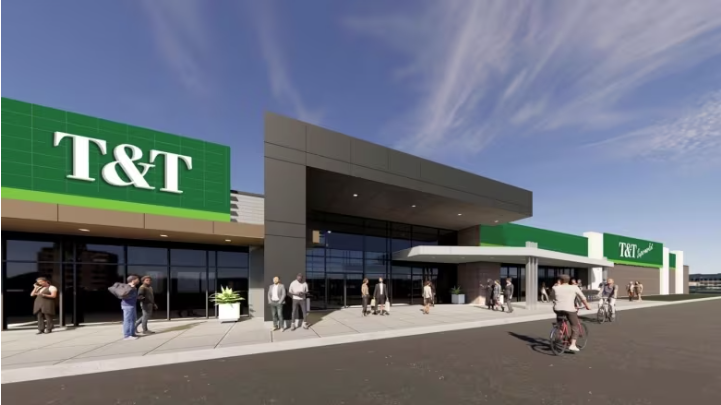 T&T's arrival will spice up the increasingly Asian flavour of Oxford and Wonderland
Grocery behemoth to open 39,00 square-foot retail store at former Food Island location
An Asian grocery giant is coming to London, and no one is happier than Lester Hornilla.
CBC News has learned that T&T Supermarket is opening in the retail space vacated by Food Island at Oxford Street West and Wonderland Road. T&T is a large, fast-growing B.C.-based chain owned by Loblaw Companies and has 31 stores across four provinces.
A chef at Fanshawe College, Hornilla was born in the Philippines. While living in Toronto, he developed a taste for foods from every corner of Asia, from the flavours of his birth country to Korean bulgogi (barbecue beef) and Chinese dim sum.
During his time as a student in London, Hornilla and his friends lived near the corner of Oxford Street West and Wonderland Road. It's a popular landing spot for students of Asian descent, and the variety of food options that have popped up there in recent years reflect the trend.
"There's sushi places everywhere, there's bubble tea, so when I came to London, that was our spot," said Hornilla.
Food Island, an Asian grocer in the plaza at the southeast corner of Oxford and Wonderland closed last month. It also was a regular stop for Hornilla and his foodie friends.
"That was our go-to," he said. "I was sad when it closed so suddenly like that."
Hornilla believes T&T's decision to come to London is proof the city's increasingly diverse population is leading to a corresponding diversity of food choices.
"Before we had to go to Mississauga, Toronto, and Markham to get Asian ingredients," he said. "But we're lucky now to have grown a diverse population and the need to supply those demands."
Jay Zhang works right across the road at Coco, a chain that serves bubble tea and other Asian-themed drinks.
Zhang said Food Island was a big draw to the neighbourhood for London-bound overseas students, particularly those coming from China.
"Sometimes the house owner, when he goes to rent a place, he tells them the place is close to an Asian market," said Zhang.
Since Food Island's closure last month, Zhang said many of his friends have been travelling to other Asian grocers such as United Supermarket on Adelaide Street or Superking Supermarket in Westmount Mall.
T&T CEO has a London connection
Driving a few hours to get a taste of home is a story familiar to T&T CEO Tina Lee.
Although from B.C., she studied business at Western University.
In an interview on London Morning with host Rebecca Zandbergen, Lee said London has long been a part of the expansion plans of T&T, which opened a Waterloo location in 2018.
"I have been looking to bring T&T to London for a really long time, I want to say years," she said. "And this is the perfect location for it. London is a growing city and we've got a great Asian population plus a really important student population."
Restaurant owner hoping for more traffic
Like Hornilla, T&T's arrival can't come quick enough for Xing Yang.
He owns Heart Sushi, a Japanese buffet restaurant that serves all-you-can-eat Asian fusion, but with table service. His restaurant is right next door to the former Food Island location.
Yang said Food Island's closure has led to a sharp drop off in traffic and business.
"T&T coming here will be a good thing for the neighbourhood, for everybody," he said.
'It's a big deal'
Carmel Tse chairs the board of directors of the London chapter of the Chinese-Canadian National Council.
"The return of a supermarket to that neighbourhood is a blessing," he said. "It's a big deal. When you're homesick, the best thing you can get is food to soothe the homesickness."
He said T&T is a different kind of shopping experience than Food Island, which he was a fan of.
"They have the purchasing power and they also have their own brand of food," he said. The chain was founded by Lee's mother Cindy Lee who is Taiwanese. But the chain also has a history of hiring employees from Hong Kong and mainland China.
"The advantage of the T&T brand is that it offers the variety that caters to other Asian groups," said Tse.
Unfortunately, London students and homesick foodies will have to wait a bit before they're shopping for noddles, nori sheets and Tianjin crepes at the London T&T.
The store, which will employ 130 people, isn't slated to open until the summer of 2024.